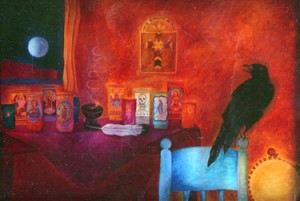 In this workshop we are setting aside a day just for shamanic drum journeying, as a community. There will be no workshop fee for this day.
We will offer both basic and advance journey themes, so that new people are invited to come and experience Crows Nest, and those who are experienced can refresh and further develop their journey skills.  The journeys will be placed in the context of the Earth-Honoring Heart-Path. 
We will have a Sacred fire Ceremony at 9:AM, followed by group drumming, and at 10:AM we will begin the shamanic journeywork process. We will take a 90 minute break for a light lunch (bag-lunch recommended), and will have closing circle at 4:PM. 
No Cost: This is a free community event.
Food: Bag Lunch
What To Bring:  journal, pen, drums, rattles, regalia, messas (altar cloths, crystals, feathers, etc) eye-cover, something to lie on (e.g., mat or blanket).
Time: Beginning at 9:AM sharp. Closing at 4:30 PM
Where: Crows Nest USA
*Please email admin@crowsnestshamanism.com to confirm your attendance. Directions will be sent by email.