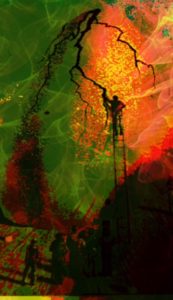 Where: A Crows Nest USA
When: February 17-19, 2017
Time: 6pm Friday through 3pm Sunday
Cost: $300 | $250 Early Bird when paid in full by Feb 10th Click here to register and pay
In this time of political and social upheaval, with fear and discouragement on the rise, we need visionary healers and visionary leaders to inspire us with principles and skill sets that engender hope, and empower us to make creative changes in ourselves and in our communities.. In this workshop Mikkal will explore with you the principles of psychoshamanic visionary potentiality, with special focus on the psychoshamanic visionary healer and leader. This is a practical model for accessing your visionary potential and developing related skill-sets.. We will especially the "5-Es" of how to Envision as a regular practice, and to Embody, Empower, Evaluate, and Encourage. We will also present a new experiential practice for teaching yourselves and your clients to do Shamanic Self-Metaprogramming, a powerful technique to find your self-limiting patterns and re-program.
Robert Wagner, our Sacred Fire Chief will be running a medicine sweat on Friday evening, and sharing a new story he has created, aiming at helping us heal from, and respond resourcefully to the current political crisis.
Susan Pound will lead us in a psychoshamanic practice of Dreaming for Someone else, beginning with the sharing of a short dream-story "The Tempest in a Teacup."
This is an exciting kind of practice involving group and dyad participation.
Sacred Breathwork is also planned, on session on Saturday evening, and one on Sunday morning.
*Please note: Upon registration a welcome letter will be sent to you which will provide additional information.